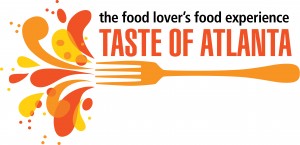 In one weekend, Taste of Atlanta brings together the incredible energy and diversity of the city's food scene. From the hot new restaurants to down home favorites, from ethnic eateries to small gems that are off the beaten path – if it's great food, you'll find it at Taste of Atlanta!
The 13th annual Taste of Atlanta returns to Tech Square in Midtown at Spring and 5th Street with over 80 confirmed restaurants and some of the best Chefs on Saturday, October 25th and Sunday, October 26th. Volunteers are the key to making this event a success.
We are seeking passionate, enthusiastic and committed culinary students and alumni to volunteer as Chef Assistants during the 2014 Taste of Atlanta. Chef Assistants will gain hands on-culinary experience and work with local chefs or restaurants throughout the day as they prepare and serve their tastes at the event.
Taste of Atlanta is an excellent opportunity to network with local chefs and restaurants and people from around the world!
Chefs and restaurants participating in the festival include:
Ford Fry of JCT. Kitchen, no. 246
Ron Eyester of Rosebud and The Family Dog
Archna Becker, Bhojanic
Doug Turbush, Seed
Joe Truex, Watershed
Amura Sushi, Ray's Restaurants, Seven Lamps, Gordon Biersch
And many more!
Chef Assistants Rewards
All Chef Assistants will receive the following after completing a minimum of one five hour shift:
1 General Admission wristband and 10 Taste coupons
Taste of Atlanta T-Shirt
Thank you letter
Chef Assistants Shifts
Chef Assistants are needed for 5-hour shifts on the following dates:
Saturday, October 25    11:00 am to 8:00 pm
Sunday, October 26th    11:00 am to 6:00pm
Chef's Assistants will be assigned to a restaurant once you check in for your shift. You will be assigned based on the restaurant's needs at that time.
Chef Assistant Application
If you are interested in volunteering, please complete and submit the online application in the following link:
2014 Taste of Atlanta Chef Assistant Application
Application deadline has been extended to October 22, 2014.
If you have any questions, please contact Qualena Odom-Royes, CSEP, CMP at volunteers@eventsessential.com  or 404-566-4725.
We look forward to working with you.
Thank you.