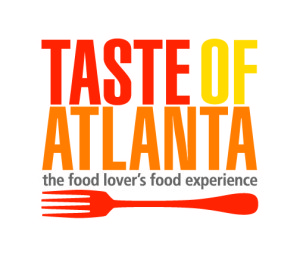 After successfully serving up the city's best fare for more than a decade, Taste of Atlanta is back with bigger features and bolder flavors in its 14th year! The legendary three-day food festival returns to Midtown at Tech Square Friday, September 25 – Sunday, September 27, 2015.
This year's event takes festival-goers on a culinary adventure through the city's many diverse neighborhoods by featuring the chefs and restaurants that give these communities their true personality and flavor. Food lovers of all ages are invited to join Taste of Atlanta this September in celebrating the dynamic energy and variety of the local restaurant scene while savoring what makes Atlanta the food capital of the South!
We are seeking passionate, enthusiastic and committed culinary students and alumni to volunteer as Chef Assistants during the 2015 Taste of Atlanta. Chef Assistants will gain hands on-culinary experience and work with local chefs or restaurants throughout the day as they prepare and serve their tastes at the event.
Taste of Atlanta is an excellent opportunity to network with local chefs and restaurants and people from around the world!
Chefs and restaurants participating in the festival include:
Ford Fry, JCT Kitchen, The Optimist and more
Ron Eyester, Rosebud and The Family Dog
Archna Becker, Bhojanic
Linda Harrell, Cibo e Beve
C&S Seafood, Davio's, Southern Gentleman, Gu's Dumplings, Barcelona, Max's Wine Dive, Original El Taco
And many more!
Chef Assistants Rewards
All Chef Assistants will receive the following after completing a minimum of one five hour shift:
One (1) General Admission wristband loaded with 10 Taste Points
Taste of Atlanta T-Shirt
Thank you letter
Chef Assistants Shifts
Chef Assistants are needed for 4-hour shifts on the following dates:
Saturday, September 26th        10:00 am to 7:30 pm
Sunday, September 27th         11:00 am to 6:30 pm
Chef's Assistants will be assigned to a restaurant once you check in for your shift. You will be assigned based on the restaurant's needs at that time.
Chef Assistant Application
If you are interested in volunteering, please complete and submit the online application in the following link:
2015 Taste of Atlanta Chef Assistant Application
Application deadline is September 14, 2015.
If you have any questions, please contact Qualena Odom-Royes, CSEP, CMP at volunteers@eventsessential.com  or 404-566-4725.  We look forward to working with you.
Thank you.
Q