I work with lots of wonderful vendors and I am so impressed with their level of expertise in their field.  In my Vendor Spotlights, I highlight some of the very best who are at the top of their game.  This week the spotlight is on  …….
JAN HARLIN LEVIE of A HANDY LITTLE COMPANY, LLC EVENT ENTERTAINMENT!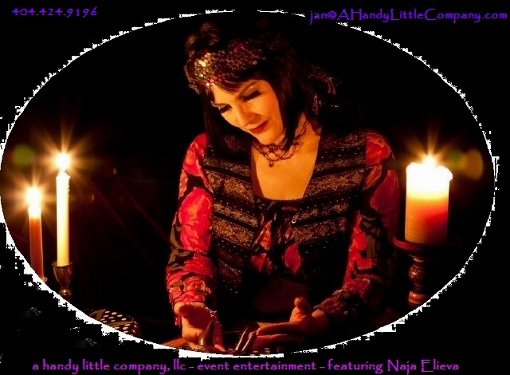 Where are you based?
We are based in Atlanta, Georgia.
What do you specialize in?
Individualized, custom-made, experiential entertainment that represents the intersection of art, technology, and artisanal (hand-made). Whether LipsReadings™ or LipsReadings™ in Chocolate, interactive handwriting analysis, palm reading, coffee cup readings, Tarot, or our ZOLTAR Live!—our entertainment changes the way people view entertainment and how it can touch people.
How did you get started?
While doing a PTA Halloween party at my children's elementary school, I filled in for the "Gypsy Fortune Teller" because my spooky stories were way too spooky….
 What inspires you?
I am inspired by people, art, music, theater, philosophy, literature, technology, science fiction, travel, economics, animals, nature, children, and fashion.
What does your ideal client or project to work with/on?
My ideal client is creative, innovative, a rule breaker, traveler, multi-faceted, brilliant, elegant, sleek, fabulous, singular, stylish, whimsical, piercing, an intellectual giant, fierce, has a great sense of humor, is self-made, a maverick, free-spirited, committed, loyal, and zany. That ideal client gives me touch points on what they want to achieve, a theme, color scheme, head count, venue, time frame and budget and say, "Do what you think is best!"
Favorite vendor(s) to partner with:
The Georgian Terrace because it provides a natural backdrop for our costumes. I love Ventanas for the view and fire pits, The Besharat Gallery for its eclectic beauty and art, The Inventor's Loft for the Safe Room, Bold American at the King Plow Center for design, and 103 West for their acoustics, service, and food, The Historic Academy of Medicine and The Wimpish House because they are beautiful, elegant, and multi-functional, and The Atlanta Botanical Garden because they are The Gardens.
Tell us the best way to reach you:
Email me at – jan@AHandyLittleCompany.com
Do you want to be featured in our Vendor Spotlight?  Submit your info in this link for consideration.
Q