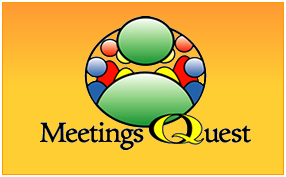 This is a great conference and tradeshow that comes to Atlanta every year.  I always learn something during the educational sessions, the entertainment at lunch is always top notch, and the tradeshow is great!  Best of all it's free for qualified meeting planners.  Check it out – are you going?
Q
We invite you to attend Meetings Quest Atlanta
at the Atlanta Marriott Marquis
on Wednesday, October 5, 2011
COMPLIMENTARY registration for all qualified meeting professionals*!
Educational speakers sponsored by Georgia State University, School of Hospitality, Cindy Light, presenting How to Maximize Your Success as a Meeting Planner by Embracing Cultural Diversity and Debby Cannon, Ph.D., CHE presenting Pull or Push – Working with Multi-Generational Employees and Clients
Networking Luncheon entertainment by Ron Johnson sponsored by Larry Weaver Entertainment.
Earn CEU credits.
All-inclusive registration includes Meet-and-Greet Breakfast, Educational Seminar, Networking Luncheon, and Tradeshow.
After the show join us a Max Lagers for the Post-Show Connections Reception.
The night before 300 Atlanta Bowling Center will be sponsoring a networking event from 6:30pm to 8:30pm.
For more information or to register for the reception or the bowling event please email us at registration@jtdunn.com
Register TODAY!
Need more information? Visit us online or call the event hotline 800-735-7770.
*Meetings Quest is a one-day complimentary event ONLY for qualified, active meeting professionals. Show management reserves the right to deny registrations for non-qualified individuals. "Qualification" criteria is at the discretion of show management. Non-exhibiting suppliers are prohibited from registering and attending the trade show.