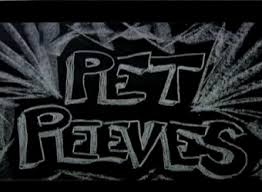 Food & Beverage (F&B) is a staple in the Meeting & Events Industry.  When people come to a conference, meeting or event they are leaving the comforts of their home and office and as a result, we must provide sustenance!
It can be as simple as a coffee, tea or water during a morning break or as complex as a 5 course meal with wine during dinner.  At any rate, Meeting & Event Planners have to be prepared to feed our clients' guests.
My industry pet peeve is when guests do not RSVP for events, especially plated functions and just show up and/or when guests that do RSVP are a NO SHOW.
Typically F&B guarantees are due to the venue or caterer 72 hours before the event.  If you just show up, not only have we not included you in the guarantee, but the event budget could also increase AND you MAY have a "written" in name badge.  Think about this before you attend an event without confirming your attendance.
On the other hand, if you DO RSVP, please show up or if allowed, send someone in your place!!  We understand that things happen like traffic, weather, change of plans, work deadlines, illness, etc. As soon as you know you can't make it, notify the event host so your $50++ meal does not go to waste.
Please and Thank You!!
Q