Are you a true "foodie"?  Do you like to help people?   If yes and  you are around Atlanta on October 25th and October 26th, check out this volunteer opportunity with me at the Taste of Atlanta.  Hope to see you there!
Q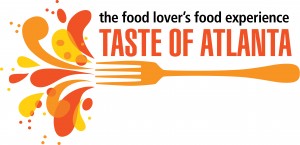 In one weekend, Taste of Atlanta brings together the incredible energy and diversity of the city's food scene. From the hot new restaurants to down home favorites, from ethnic eateries to small gems that are off the beaten path – if it's great food, you'll find it at Taste of Atlanta!
The 13th annual Taste of Atlanta returns to Tech Square in Midtown at Spring and 5th Street with over 80 confirmed restaurants and some of the best Chefs on Saturday, October 25th and Sunday, October 26th.  Volunteers are the key to making this event a success. We are seeking qualified and enthusiastic volunteers to serve as Ambassadors for Taste of Atlanta 2014.
Ambassador opportunities include: Restaurant Runners, Ticketing, and Floaters to name a few. Ambassadors are needed on Saturday, October 25th and Sunday, October 26th at various times (4 hour shifts).
Each Ambassador should be able to commit to a four-hour shift and attend Volunteer Orientation. Taste of Atlanta is an excellent opportunity to meet people from Atlanta as well as from around the world!
Ambassador Rewards:
All Ambassadors will receive the following after completing a minimum of one four hour shift:
1 General Admission wristbands and 10 taste coupons
Taste of Atlanta Ambassador T-Shirt
Thank you letter
Ambassador Shifts & Assignments
Ambassador duties will be assigned once you check in for your shift. You will be assigned based on the duty and area that needs Ambassadors at that time. You will not receive an assignment before Taste of Atlanta, just a confirmation for the shift time you selected.
Taste of Atlanta is an outdoor food festival – please be aware that there will be lots of standing and in some cases walking around the festival for most of the assignments.
The Ambassador Assignments will include:
Restaurant Runners
Greeters
Floaters
Ticketing
Chef Assistant (Culinary Students Only)
Information Booth, Check In and Chef's Hospitality
During your shift, Ambassadors may be asked to change assignments and/or locations. We ask that you remain flexible and patient!
If you are interested in volunteering, please complete and submit the following online application   2014 Taste of Atlanta Ambassadors Application.
If you have any questions, please contact Qualena Odom-Royes, CSEP, CMP at volunteers@eventsessential.com  or 404-566-4725.
We look forward to working with you.